I'm sure you've heard that blogging is a truly legitimate way to make money online. If you've started doing any research, you've learned that bloggers mainly make money by selling their own products, ad networks, and affiliate marketing. But what does this really mean? Do bloggers really make money online? In this blog post, I'm going to share some of my favorite bloggers that really make money online and will show you how to follow in their footsteps.
Related Post:  6 Legitimate Ways to Make Money Online
Note: This page contains affiliate links, which means that if you buy something using one of the links below, I may earn a commission.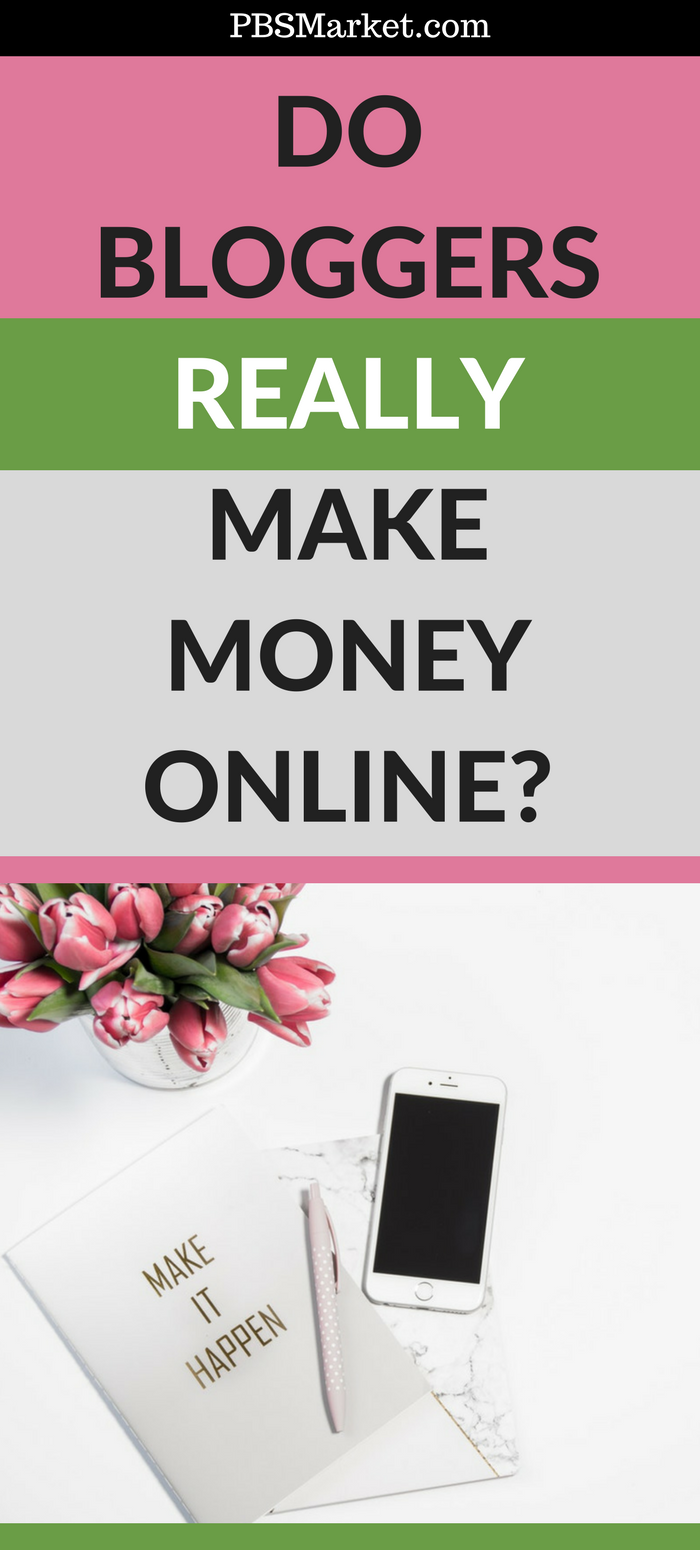 Do Bloggers Really Make Money Online?
Bloggers really do make money online.  It takes hard work and dedication but you can make a full time living as a blogger.  Becoming a successful blogger doesn't happen overnight.  As with any other craft, you must invest in yourself by taking the time to learn and study the best practices that will lead to success.  There is no magic formula.  However, if you put in the work and learn from those who are actively making a living blogging you can succeed.
Related Post:  How to Make Money Blogging – No Matter the Topic
Types of Bloggers
It is worth making mention that there are different types of bloggers.  Some bloggers blog for the sheer enjoyment of sharing the topic of their choice.  They are not concerned with making money.  These bloggers blog as a hobby.  There are also bloggers that blog as a job.  These bloggers work for large blogs that employ bloggers.  And finally, there are bloggers that blog as a business.  These bloggers create their own blogs for the purpose of making an income.  In this post, I will highlight bloggers that have created their own blog as a business and make a full-time income blogging.
How Much Money Can You Make Blogging
A very large percentage of bloggers don't make very much blogging.  Making even a decent amount of money blogging takes time and hard work.  When considering the bloggers that do make money, the amount of money they make varies.  Some bloggers make $100 a month while others make $100,000 per month.
Most Popular Blogging Niches
Some blog niches are more profitable than others.  A blog niche is simply a topic that a blog is centered around.  Some profitable blog niches include:
Make Money Online
Food
Lifestyle
Fashion
Fitness
A key component to making money blogging is traffic.  These blog niches are profitable due to their ability to pull in the right amount of traffic to a properly monetized blog with great content.
ADD_THIS_TEXT
My Favorite Bloggers – That Actually Make Money Blogging
Here is a list of my favorite full-time bloggers that are actually making money from their blog.  These are my go-to bloggers when I'm working on new strategies to achieve new goals for the PBS Market and Healthy Wealthy Skinny blogs.
Jennifer – PotPieGirl.com
PotPieGirl.com was one of the first blogs that I followed when I decided to focus on my blog.  Jennifer taught me tons about blogging and Pinterest.  Learn how to start your blog, get traffic to your blog, and how to make money with your blog. Jennifer provides amazing case studies and proof that her methods work by showing results from her various successful blogs. PotPieGirl.com is a goldmine of blogging information.
Stop by PotPieGirl.com and get all the blogging tips and tools you'll need to start making money with your blog.
Carley – Mommy on Purpose
Blog Income:  20K+/month
Hands down Carley is one of my favorite bloggers.  Not only does she run a successful blog, she is completely transparent and down to earth.  Carley doesn't claim to be a blogging guru that you should follow blindly.  She teaches you what she's learned throughout her blogging journey and empowers you to choose the strategies that will work best for you.
Mommy on Purpose is a mommy blog with topics ranging from mommy tips, pregnancy, kids, organization, and saving money.   Carley also teaches how to start and run a successful blog.  She has an awesome ebook named Pinterest Strategies where she teaches the strategies she used to go from 0 to 200K page views by manually pinning on Pinterest.  I'm currently using her strategies and I've greatly increased my Pinterest reach and blog traffic.
Mommy on Purpose is an excellent blog to follow as an example of a money making blog.  Visit the site and join Carley's email list.  She sends out a weekly email with very valuable content.  She also only posts her blog income reports out to her email list.  They alone are work subscribing to her email list.  Carley's income reports show you exactly how she makes a full-time income with her blog.
Elna – Twins Mommy
I have learned so much from Elna's Twins Mommy blog.  Her blog is designed to help moms make money blogging.  She provides information on how to start a blog as well as how to increase your traffic, grow your email list and increase your income.  What I like most about Twins Mommy are the real world examples and proof.  Elna doesn't just talk about a strategy.  She tells you exactly how she implemented each strategy and shows you the results.
I highly recommend checking out the Twins Mommy blog for tips and strategies for making money with your blog.
Divine – Ladies Make Money
Ladies Make Money is another excellent blog with a focus on teaching ladies how to make extra money.  The Ladies Make Money blog is not solely focused on how to make money blogging.  It provides information on lots of ways to make extra money both on and offline.
If you're looking for that perfect side hustle or ways to turn your hobby into a business using your blog, visit the Ladies Make Money blog.
Jeff & Ben – Breaking the One Percent
Blog Income:  12K+/month
Breaking the One Percent is where I go when I'm looking for straight to the point information on blogging strategies.  It provides clear and detailed information on blogging with no sugar coating included.  Breaking the One Percent gives you the tools and teaches you the strategies to start making real money online.
Jeff and Ben run 3 separate blogs.  I really enjoy that they share their strategies for all 3 blogs and include each in their income reports.  It is refreshing to visit a site that is geared towards actually teaching you techniques more so then selling you a product.
Take a moment and visit Breaking the One Percent to learn more about making money with your blog.  I guarantee this is one that you'll want to bookmark so you can visit often.
Suzi – Start a Mom Blog
Blog Income:  $24K+/month
Suzi from Start a Mom blog is a blogger I can really relate to.  She started off in engineering and corporate America and really wishes she had started out blogging from the beginning.  This is the story of my life…lol
As the name suggests, Start a Mom blog is centered around teaching moms how to start their own blog.  Suzi consistently makes $24,000 plus monthly with her blog and she teaches her blogging strategies so you can reach for the same income goals.
Visit Start a Mom blog and learn how to really make money blogging.  Even if you're not a mom. 😉
Yes! Bloggers Really Make Money Online
I hope this list of successful bloggers has inspired you.  I recommend bookmarking each of the blogs listed above and taking note of their strategies.  Each of them offers free resources and low priced courses and materials to help you take your blogging to the next level.  I am continuously learning from each of them.
Click here to pin this pin and leave a pin comment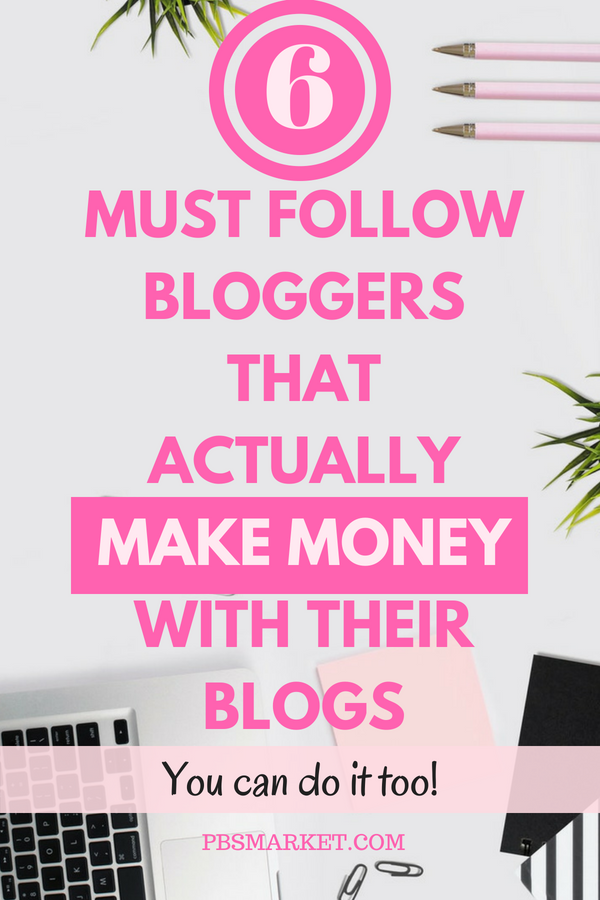 Thanks for Reading!
Do you have any favorite bloggers that aren't on my list?  Leave a comment and tell me all about them.  I'd love to check them out.
Like, Share, Tweet, & Pin this Post…