I'm always in search of new ways to make money online.  Cashback apps are a simple way to save a little money on everyday purchases.
Dosh is a Cash Back app the officially launched in November of 2017.  It allows you to earn cash back when you shop, travel, or eat out in restaurants.
Dosh is a great way to earn cash back from your everyday spending activities.
In this post, I'm going to give you a detailed and updated 2019 Dosh App Review.
Note: This page contains affiliate links, which means that if you buy something using one of the links below, I may earn a commission.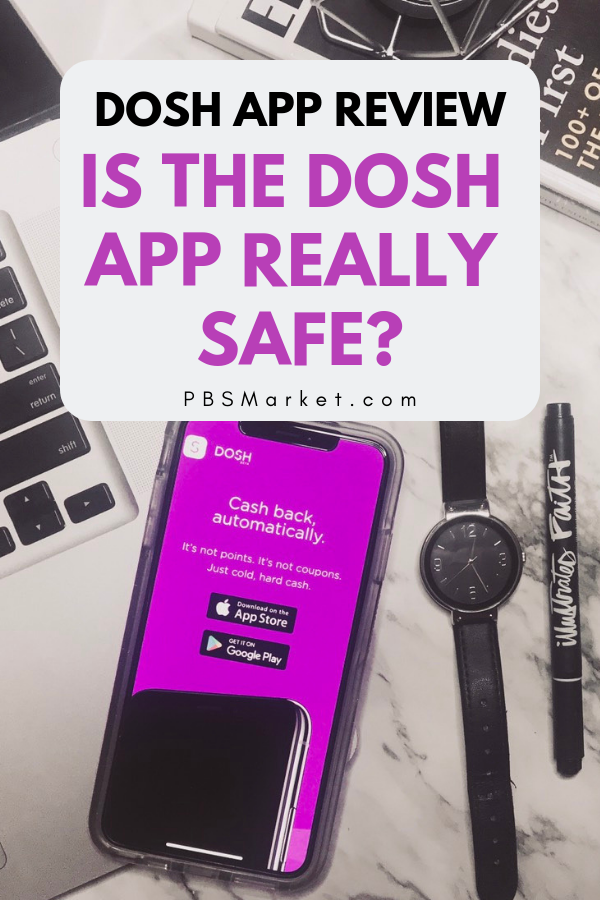 Dosh App Review – Scam or Legitimate
Dosh App Review
Many people are wondering if Dosh is a cash app scam.
Let's end the suspense.
The Dosh app is completely Legitimate.  I have personally installed the app on my iPhone (also available on Android) and received cash back from shopping as well as referring others to the app.
I have also successfully transferred my cash back from the Dosh cash back app to my PayPal account.
It is worth mentioning that the Dosh cash app is in its Beta phase.  This means that the app has been released to the public with its initial features however it may contain unknown bugs.
Since I've been using the app, Dosh has experienced delays in processing payments and issues with linking Debit and Credit cards.
These issues were resolved quickly and Dosh did a great job at sending emails updating its users on the status of the issues.
Dosh Updates
December 27, 2018 – Dosh is offering a Limited Time Referral Boost.  Through 12/31, Dosh will give you $15 for each friend and family member you refer to Dosh, and they'll give each referral $5 when they link a card.
December 21, 2018 – Dosh has extended their Refer & Get $10 Promotion.  You now have until December 31st to get $10 for everyone you refer to Dosh that adds their first card.
December 17, 2018 – Dosh is having a 7 Days of Cash promotion. Through 12/24/2018 get $10 for each friend you refer to Dosh.  Your friend will get $5 when they link their card.
Get more cash when you and your friends go to places like Chevron, Texaco, Pier 1, Sephora, Hallmark and more!
November 7, 2018 – Dosh has launched a new improved referral program.  Their new program makes it easier to refer your friends to Dosh.  As a result, Dosh is paying $10 per referral for 2 weeks only.
Join Dosh now and start sharing it with your friends to earn extra money.  If you already have Dosh go to the refer tab in the Dosh app and share your unique referral code with your friends.  My Unique Referral Code: SHAWNJ1
How Does Dosh Work?
Now that you know that Dosh is legitimate, I'll tell you how Dosh works.  As I explained earlier, Dosh allows you to earn cash back when you shop, eat at restaurants, or travel.
Link a Card for a Free $5.00 Bonus
You receive cash back by downloading the Dosh app and linking the debit cards and credit cards that you use to shop.  Dosh allows you to earn cash back on both online and in-store purchases.
Once you download the Dosh cash back app to your phone and link your cards you are done.  You will get a free $5.00 bonus.
Then you simply shop, eat, and travel as you normally would.
If you purchase from any of the vendors in the Dosh network you will receive cash back automatically into your Dosh Wallet.
The Dosh app does a great job and showing you the vendors in the Dosh network and how much cash back you get from each vendor.  The app even shows you the vendors that are closest to your current location.
The Dosh app can help you easily find a restaurant nearby that allows you to earn cash back.
How to Setup Dosh
Interested?  Here are step by step instructions on how to set up the Dosh App.
Step 1:  Click Here to download the Dosh app. (Note:  Make sure you click on this link from your smartphone) The link will open the App Store or Google Play Store and allow you to download the app.
Step 2:  Follow the in-app instructions to sign up for a Dosh Account.
Note:  Dosh is currently a very popular cash back app.  They have a limit on the number of registrations that they can accept per day.  When registering you may get a message that you will need to wait until 12:01 PST to register.  No worries…. try again after midnight.
Step 3:  Click on the "Cards" tab and add your first Credit or Debit Card.  Currently, Dosh is giving you $5.00 just for adding your first card.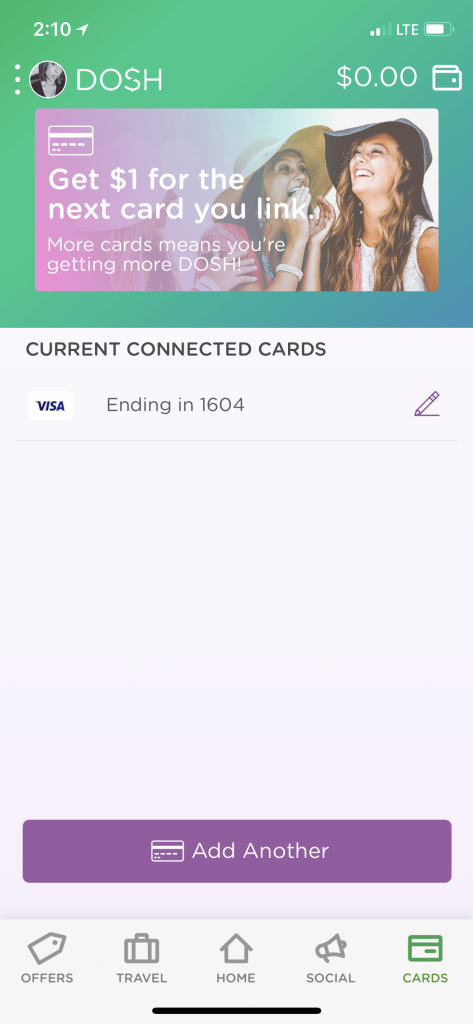 Step 4:  Verify your email address.  This is a very important step.  Dosh needs to make sure that you own the email address that you used when you set up your account.  Dosh will send you an email that tells you how to verify your email.
Step 5:  Click on the "Offers" tab to see vendors that are offering cash back for shopping with them.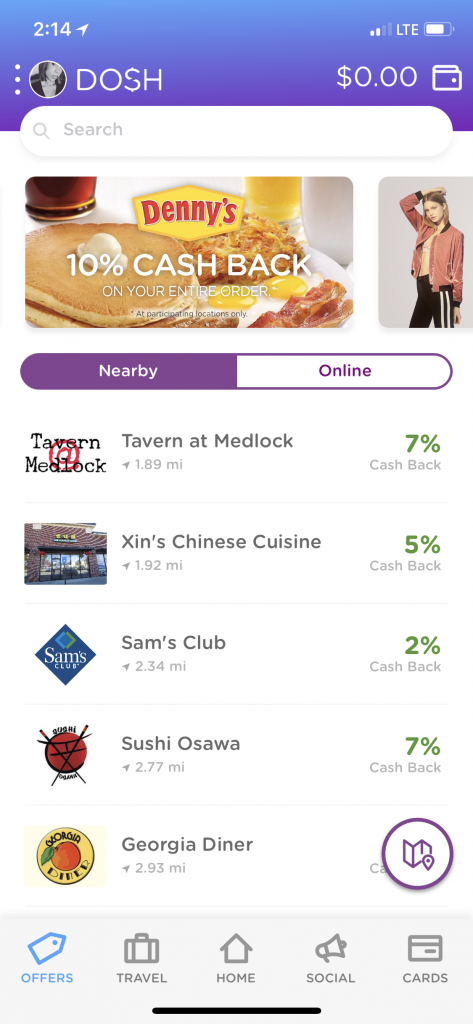 That's it!  You will now begin to earn cash back when you use the credit or debit card that you loaded into the app.
If you would like to add more cards, just return to the "Cards" tab and click on the "Add Another" button.
How to Make Money with Dosh
The Dosh app gives you three ways to make money.  These three methods are cash back offers, travel, and referrals.
Cash Back Offers
Cash back offers are listed on the "Offers" tab in the app.  This is listing on online and in-store offers that allow you to earn cash back just by purchasing with the debit or credit cards that you have loaded into your Dosh app.
These offers are normally in the range of 2% – 10% cash back.  You will find offers from well-known vendors like Sams Club, Denney's, Forever 21, and Bed Bath & Beyond just to name a few.
Note:  Vendors are subject to change.  Use the "offers" tab of the app to see current valid offers
Travel
Dosh allows you to earn cash back when you book hotels and activities directly from the app.  Not only do you get cash back, but you also get discounted rates.
To view Travel offers, click on the "Travel" tab from within the app.  When booking hotels with Dosh, it will tell you both the rate for the hotel per night and how much total cash back you will earn for the duration entered because you booked through Dosh.
Referrals – Dosh Affiliate Program
For those of you that want to earn a little extra cash, Dosh allows you to earn money by referring friends to use the app.
Dosh will give you $5.00 for every person that uses your referral link to download the app and add their first card.
Once your referral sets up their account Dosh will send you a notification alerting you that you have a new referral.  Dosh will then place $5.00 into your Dosh wallet 48 hours after your referral adds their first card.
The person you referred MUST add a card before Dosh will pay you for the referral.
Dosh allows you to refer friends and businesses.  When you refer a business to Dosh you will receive 20% of their marketing fees for two years.
To get your Dosh Referral link, click on the "Social" tab from within the app.  Once on the social tab, you can share your referral link directly to Facebook, Twitter, via Text, and via Email.
You can also copy your referral link to your phones clipboard and share your link anywhere you like.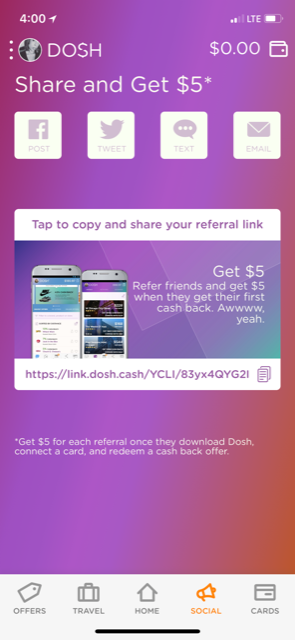 Click Here to download the Dosh App now and start making Free Money
If you are looking for other legitimate ways to make money online, check out the following related blog posts.
Related Post: 6 Legitimate Ways to Make Money Online
Related Post:  How to Make Money Blogging – No Matter the Topic
Download the Dosh App, Go to the Refer page and share your unique link with your friends.  It's that easy.
How Does Dosh Pay You
It's nice having money in your Dosh Wallet but how do you turn that into real cash?
Dosh pays out by allowing you to transfer the balance of your Dosh wallet to your bank account or your Palpal account.  You must have at least $25 in your Dosh wallet in order to do a transfer.
It can take anywhere from 2 – 5 Business Days for the money to appear in your account.
I have done multiple transfers from my Dosh wallet to my Paypal account.  I have had times when the money showed up in my PayPal account in 1 hour and other times where it showed up in 3 days.
Just note that it can take up to 5 Business days.  After 5 business days, you can easily contact the Dosh support team to resolve any transfer issues.
Dosh Pros & Cons
Pros
Easy to Use
No specific links to use for purchases
No receipts to scan
Free to use
Actual cash payouts
Cons
Only available in the United States
Some delays with payouts (during beta)
Dosh App Review: Final Verdict
Dosh is a legitimate cash back app that allows you to make extra money in multiple ways.  What I enjoy most about the app is that you don't have to do anything special to earn cash back.
No scanning receipts or starting from a special website to shop online.  You simply load your credit and debit cards and shop or eat.  That simple!
If you want to learn more about Dosh, I've included the link to the official Dosh website and the Dosh Facebook page which provides good status updates.
Thanks for Reading!
Leave a comment and let me know how you like the Dosh App.  Also, let me know if you know of any other legitimate cash back apps.  Because everyone can use a little cash back.  😉
Like, Share, Tweet, & Pin this Post…