There are many people today looking for ways make money online. Choosing ways to make money online can be a daunting task.  There are also many scams lurking on the internet.  When faced with the task of choosing an online business I landed in the world of internet marketing.
In this post, I'm going to tell you exactly what internet marketing is and how you can get started making money online as an internet marketer.
Note: This page contains affiliate links, which means that if you buy something using one of the links below, I may earn a commission.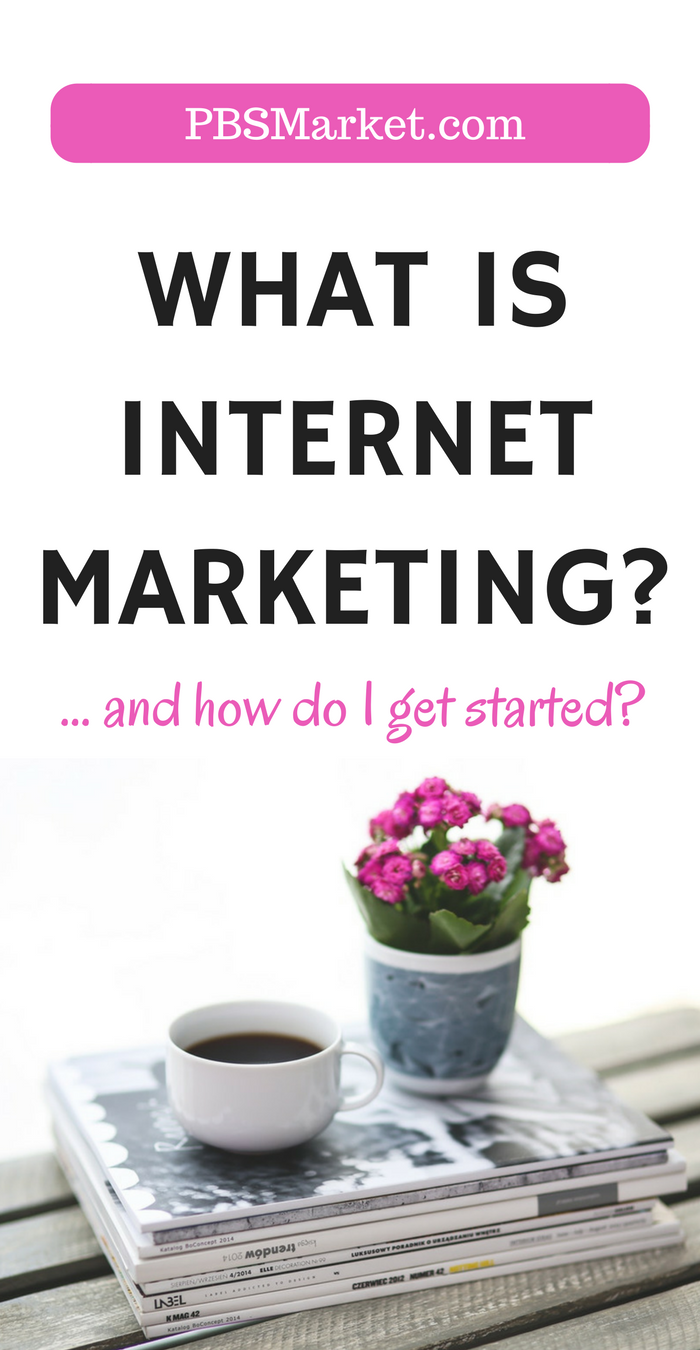 What is Internet Marketing?
According to Webopedia "Internet marketing, or online marketing, refers to advertising and marketing efforts that use the Web and e-mail to drive direct sales via electronic commerce." Internet marketing can also be broken down into specialized areas such as email marketing, content marketing, and social media marketing.
Internet Marketing and content marketing are so similar that they are often used interchangeably.  According to the Content Marketing Institute, content marketing is " A strategic marketing approach focused on creating and distributing valuable, relevant, and consistent content to attract and retain a clearly defined audience — and, ultimately, to drive profitable customer action."
How to Get Started?
Internet marketing requires research and patience. You will find many claims that you can make a 6 figure income in 90 days, however becoming truly successful takes time and/or money.  There are many people making very good money in internet marketing. With dedication and patience, you can also get your piece of the pie.
Choose Your Niche
First, you must decide on your niche.  A niche is focused target audience segment.  Some of the most profitable marketing niches include business opportunities, health and fitness, and dating and relationships.  Once you have chosen your niche you will need to choose the products you will promote.  You can choose to develop a product of your own or you can choose to become an affiliate and market a product that someone else has created.
Choose Your Strategy
Finally, you will need to determine how you will market your product. Popular options include social media marketing, blogging, and email marketing.
Blogging
Creating a blog is a great internet marketing or content marketing strategy.  A blog is a website that is updated frequently which is normally owned by an individual or small group.  Blogs cover certain topics and are designed to allow the blogger to journal, give opinions, provide information, and sell products or services.  Blogs can be used to make money online by using ad networks, selling products, and using affiliate marketing.
Affiliate Marketing
Affiliate Marketing consists of selling another company's products or services and receiving a percentage of each sell as a commission. If affiliate marking sounds appealing to you, a blog would be a great method of promoting your affiliate products to your potential customers.
Starting a blog is not as difficult as you might think.  You can start your own blog without out having any technical experience. Sign up below for our FREE 5 Day Email course.
ADD_THIS_TEXT
Email Marketing
Building an email list is an important component of your Internet Marketing strategy. You will quickly learn that "the money is in the list".  Building a robust and responsive email list will allow you to promote your products or affiliate offers and make commissions from the sells of those products. Start building your email list immediately.
ADD_THIS_TEXT
Take Action!
It is time to TAKE ACTION!  Follow the following steps and get your Internet Marketing career started today:
STEP 1:  Start Your Blog
STEP 2:  Create Your Email List
STEP 3:  Monetize Your Blog